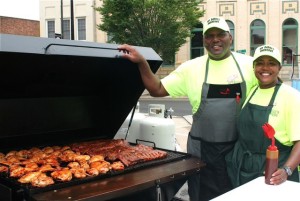 Our owner, Orner Walker has blessed the North Carolina community with his "Uniquely Desirable Taste"   BBQ for over 10 years. He grew up in Waynesboro, GA where his parent's worked in their BBQ business. Orner has given credit to his parents for what he has known about BBQ. Orner's father made the 4th of July extra special for everyone by cooking a whole hog on a pit in the ground which made Orner more than happy to dig. Every weekend Orner would help his father cook a pig or ribs on the pit built in the ground.
As he left Georgia, Orner began fine tuning his skills to introduce his own concept of how BBQ should taste. He will tell you his BBQ has a "Georgia twist, then his own twist". Orner remembers his parents by naming his business "My Daddy's Barbeque" to pay homage to his father and he uses his mother's recipe as a base for his BBQ sauce.
He started under a 10×10 tent grilling from a make shift oil drum grill on the weekends. Due to an overwhelming daily demand for his delicious barbeque he decided to upgrade to Cumberland County's first mobile self contained restaurant. Orner continues to feed the BBQ hungry community throughout the North Carolina community by setting up location on Fort Bragg during the week. He also provides catering services to all who need to fulfill that BBQ craving whether it is a retirement party, birthday party or wedding reception and other special events.
Orner gives praise to his wife, Theresa for encouraging and supporting his passion. Harmoniously, both Orner and Theresa have said "To God be the glory!"
 "Uniquely Desirable Taste"
 Give us a call! 910-303-2214
Fayetteville, NC